08/15/2019
Public Notice - August 22 RISE Board of Directors Meeting
Public Notice.
What:
A Rise Committee Meeting of the Board of Directors of the
St. Petersburg Housing Authority.
When:
Thursday, August 22, 2019 at 9:30a.m.
Where:
St. Petersburg Housing Authority
2001 Gandy Boulevard North
St. Petersburg, FL 33702
For Details:
Contact Danielle at 727-323-3171 ext. 219

StPeteHA.org
Phone: 727-323-3171
TDD: 800-955-8770
TTY: 800-955-8771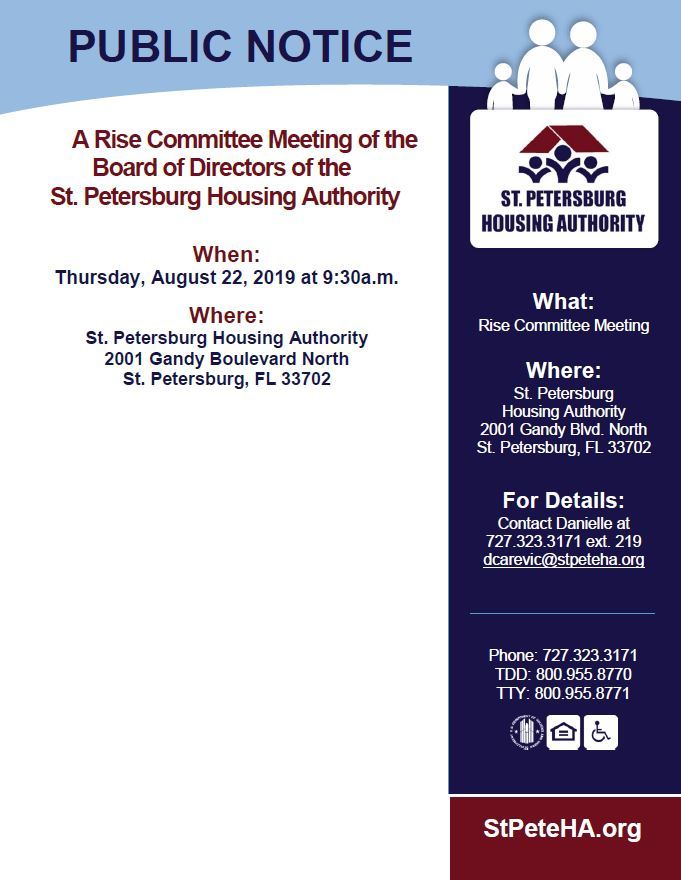 ---
Agenda - Revised 8/22/19
Members of the public who wish to address an agenda item under Public Forum must fill out a "Registration Form to Provide Statements at Public Forum" prior to the beginning of the Public Forum.
AGENDA
Call to Order

Roll Call

Swearing in of Director Roxanne Amoroso & C. Knox LaSister III

Nomination for Chair & Vice Chair of Rise Development

Approval of the Agenda

Approval of June 27, 2019 Rise Regular Minutes

Financial Reports

#28 - A Resolution of the Board of Directors of Rise Development Corporation Approving the Assignment of the Construction Contract for The Jordan Park Renovation and Mid-Rise Construction Development from Brooks & Freund, LLC to NSBF. LLC.

#29 – A Resolution of the Board of Directors of Rise Development Corporation Approving a Second Amendment to Development Agreement Relating to the Rehabilitation and New Construction of Jordan Park Apartments.

Adjournment