11/14/2023
St. Petersburg Housing Authority Receives $1M Grant for Senior Housing and New Headquarters
Valley Bank helps secure funds through Federal Home Loan Bank of New York program for redevelopment of former Ed White Hospital
ST. PETERSBURG, FL (NOVEMBER 14, 2023) - A $1 million grant is bringing the St. Petersburg Housing Authority's (SPHA) plan to redevelop the former Ed White Hospital in St. Petersburg into affordable housing for local seniors, in addition to serving as SPHA's new headquarters, closer to fruition. SPHA received a $1 million grant from the Federal Home Loan Bank of New York (FHLBNY) for the $29 million project.
Once redeveloped, the six-story, 121,000-square-foot building in the North Kenwood neighborhood will feature 71 apartments for low-income seniors. In addition, the property will house SPHA's new headquarters, plus 1,939 square feet of leasable office space.
"This location seemed an ideal place for our administrative offices, as it will bring us closer to the people we serve," said Michael Lundy, President and CEO of SPHA. "It also opens up the opportunity for us to consider future efforts in the area which includes a local park and walking trails."
The $1 million grant from FHLBNY's Affordable Housing Program was secured through the sponsorship of its financial partner Valley Bank, who is a member bank of the national network. Valley Bank's corporate social responsibility team identified the opportunity and supported the application. SPHA was the only Florida recipient of FHLBNY's $42 million in subsidies to qualified affordable housing initiatives across nine U.S. states and territories this year.
"The success of their application was largely due to the population that will be served and SPHA's reputation as a strong provider of housing services in our community," said Rainer Pelzel, commercial relationship manager at Valley Bank. "St. Petersburg has experienced sky-rocketing rent and home prices, and SPHA is not just helping with the affordable housing need, but also helping to make their clients financially independent through the resources they provide."
SPHA serves more than 4,000 low-income households in St. Petersburg and part of their mission is to enhance and promote resident self-sufficiency. They do this through a variety of social services programs with SPHA's team offering one-on-one support, tools and resources. Key programming includes their Family Self-Sufficiency (FSS) Program, Homeownership Program (HOP) and Resident Support Services (RSS) program.
The planned redevelopment of the former Ed White Hospital is another way that SPHA is working to create opportunities for stronger communities. The project is expected to break ground on construction in the first quarter of 2024.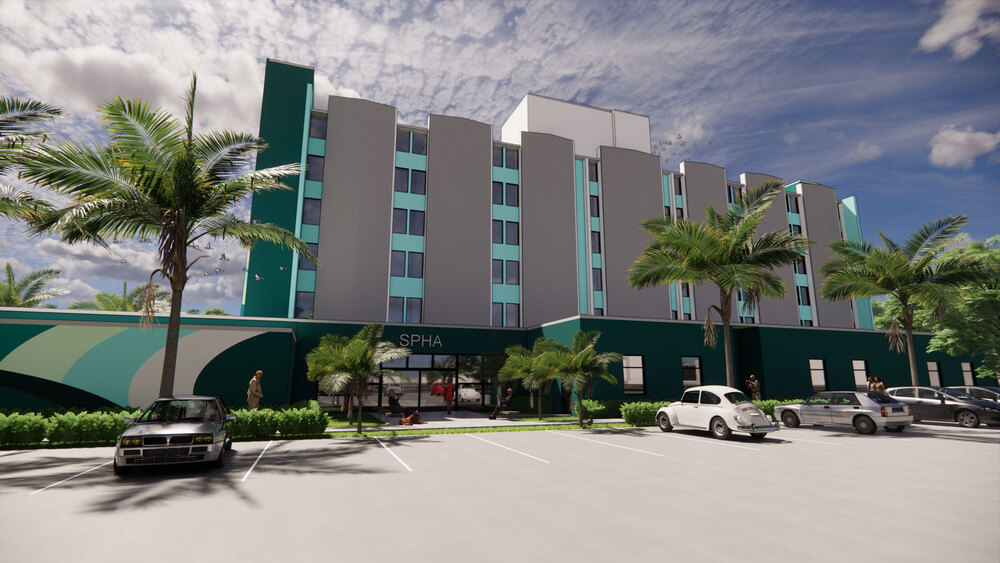 Architectural visualization of the transformed Ed White Hospital site.
###
About The St. Petersburg Housing Authority (SPHA):
An independent quasi-governmental entity and a political subdivision of the State of Florida, operating under Chapter 421 Florida Statutes, SPHA is the local administrative agency for housing assistance programs funded by the U.S. Department of Housing and Urban Development (HUD). SPHA offers a variety of programs and services that provide affordable rental housing to low-income families, seniors, veterans, and the disabled in the greater St. Petersburg region. For more information, visit www.stpeteha.org.
About Valley:
As the principal subsidiary of Valley National Bancorp, Valley National Bank is a regional bank with nearly $61 billion in assets. Valley is committed to giving people and businesses the power to succeed. Valley operates many convenient branch locations and commercial banking offices across New Jersey, New York, Florida, Alabama, California, and Illinois, and is committed to providing the most convenient service, the latest innovations and an experienced and knowledgeable team dedicated to meeting customer needs. Helping communities grow and prosper is the heart of Valley's corporate citizenship philosophy. To learn more about Valley, go to www.valley.com or call our Customer Care Center at 800-522-4100.
###