10/06/2022
Public Notice - 10/13/2022 Regular Meeting of the Board of Commissioners of the St. Petersburg Housing Authority
WHERE:

The Board of Commissioners will meet IN PERSON at 2001 Gandy Blvd. N.,
St. Petersburg; however, we ask members of the public to attend virtually.

PLEASE JOIN OUR MEETING FROM YOUR COMPUTER, TABLET OR SMARTPHONE:
https://meet.goto.com/SPHABoardroom

YOU CAN ALSO DIAL IN USING YOUR PHONE: +1 (876) 535-3211
ACCESS CODE: 162-169-733

Get the app now and be ready when your first meeting starts:
https://meet.goto.com/install

AGENDA:



1. Call to Order
2. Roll Call
3. Swearing in of New Commissioners, Mr. Derek Keys and Mr. Meiko Seymour
4. Approval of Agenda
5. Legal Report
6. Approval of Minutes
A. Approval of Minutes of the August 25, 2022 Board Meeting
7. Public Forum*
8. Consent Agenda Resolutions Non-Consent Agenda Resolutions
A. Resolution #2022-18 - Approval of the 2023 Payment Standards for the Housing Choice Voucher Program
B. Resolution #2022-19 - Resolution Approving the Submission of the 2023 Annual Plan
C. Resolution #2022-20 - Approval to Amend the St. Petersburg Housing Authority SPHA Retirement Plan
D. Resolution #2022-21 - Approval to Revise the Housing Choice Voucher (HCV) Program Administrative Plan - Homeownership Program
9. Resident Interest Reports (Adopted By Consent Unless Otherwise Requested)
A. Dashboard for Public Housing Performance Indicators FY 2022
B. Dashboard for HCV Data Report
C. Public & Affordable Housing Statistics
D. Presumptive Section 8 Management Assessment Program (SEMAP) Score for June 2022
E. Presumptive Public Housing Assessment System (PHAS) Score as of June 30, 2022
10. Financial Reports (Adopted By Consent Unless Otherwise Requested)
A. July 2022 Financial Reports
11. W/MBE & Section 3 Participation Report
12. Chairperson Report
13. Chief Executive Officer's Comments
14. Old Business
15. New Business
16. Adjournment
---

WHAT:
Board of Commissioners
Regular Meeting
---

WHEN:
Thursday,
October13, 2022
at 9:30 a.m.
---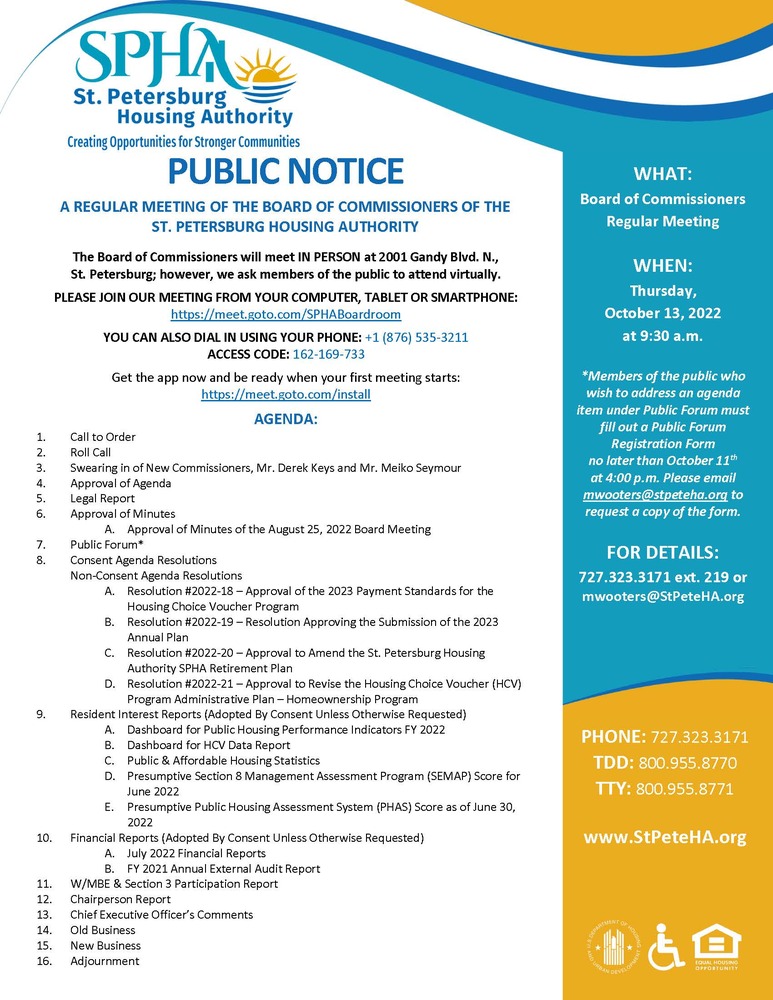 *Members of the public who wish to address an agenda item under Public Forum must fill out a Public Forum Registration Form
no later than September 28th
at 4:00 p.m. Please email mwooters@stpeteha.org to request a copy of the form.

FOR DETAILS:
727.323.3171 ext. 219 or
mwooters@StPeteHA.org
PHONE: 727.323.3171
TDD: 800.955.8770
TTY: 800.955.8771
www.StPeteHA.org