2023 Annual PHA Plan - DRAFT
Comments Welcome!
The St. Petersburg Housing Authority's 2023 Annual PHA Plan - DRAFT is now available for review at the SPHA Central Office, 2001 Gandy Blvd. N., St. Petersburg, FL 33702.
A copy of the 2023 Annual Plan - DRAFT is also available here.
Please submit any comments or questions here.
The most recent HUD-approved Five Year Capital Fund Plan is included as part of the draft 2023 Annual PHA Plan.
Comments from the general public and the SPHA Resident Advisory Board will continue to be accepted through September 29, 2022.
The 2023 Annual Plan will be presented to the SPHA Board of Commissioners at the September 2022 SPHA Board Meeting. The meeting is open to the public. A specific date and time will be announced in the upcoming days.
---
What:
Draft 2023 SPHA Annual Plan Posting
Public Comments Submission Deadline:
September 29, 2022
Where:
2001 Gandy Blvd. N., St. Petersburg, FL 33702
and
https://www.stpeteha.org/plugins/show_image.php?id=2045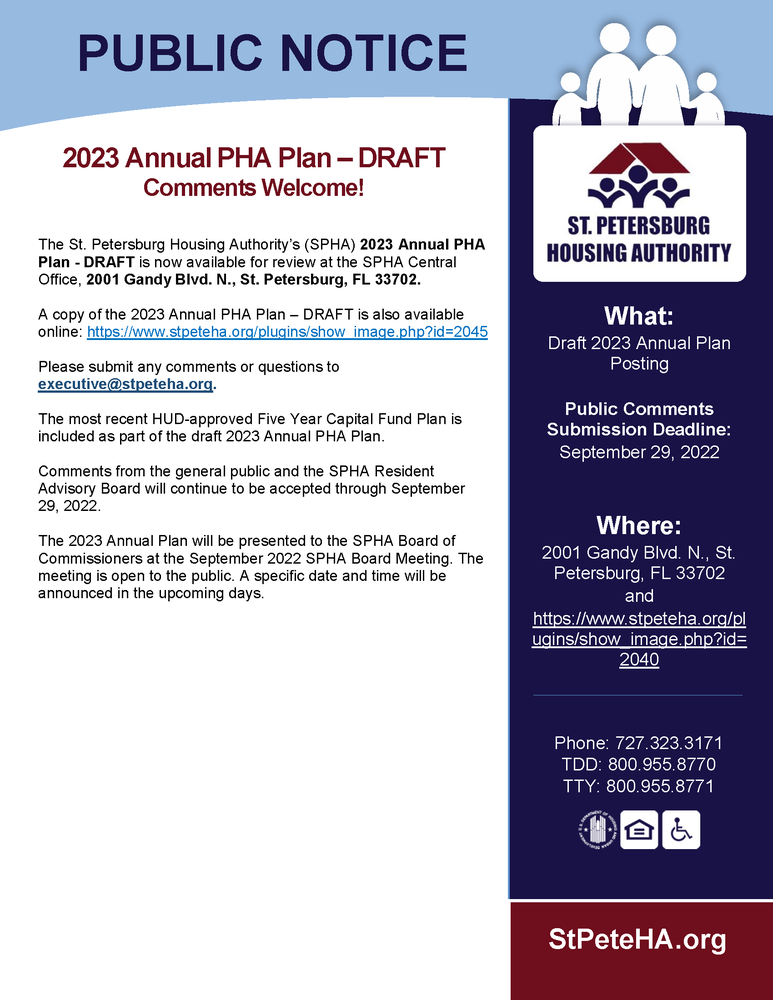 ---
Phone: 727.323.3171
TDD: 800.955.8770
TTY: 800.955.8771