11/07/2018
RISE Development Corp. Acquires New Vehicles to Better Serve Jordan Park
ST. PETERSBURG, FLORIDA ‐ On Thursday, November 1, 2018 the St. Petersburg Housing Authority's (SPHA) nonprofit arm, RISE Development Corp. acquired three new energy efficient all-terrain vehicles (ATVs). The new vehicles will allow maintenance staff to better serve our Jordan Park community in South St. Petersburg. The new energy efficient vehicles will help staff cover more ground to more effectively service the 24 acre Jordan Park community.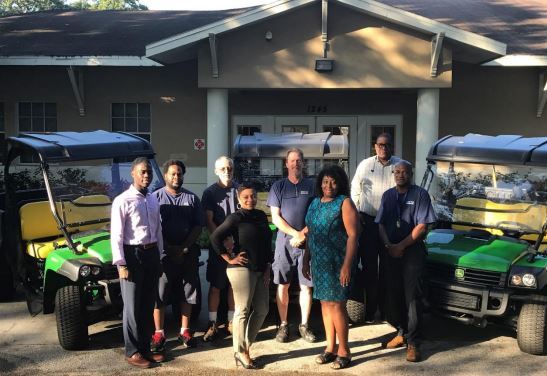 About RISE Development Corp. (RISE): Revitalizing, Investing, Strengthening, Enhancing; that's the goal of the RISE Development Corporation, which is SPHA's non-profit arm established on June 28, 2016. The purpose of RISE Development Corporation is to create more affordable rental housing options in the Greater St. Petersburg region through new construction or the renovation of existing multi-family properties. More information about RISE can be found at www.stpeteha.org.
About St. Petersburg Housing Authority (SPHA): Founded in 1937, the St. Petersburg Housing Authority (SPHA) is one of the oldest housing authorities in the nation and is continually rated by the U.S. Department of Housing and Urban Development (HUD) as a "High Performing" agency. SPHA provides housing assistance to qualifying low-income families within its service area, which includes the City of St. Petersburg and extends in a 10-mile radius outside of city limits. More information about SPHA's programs and services can be found at www.stpeteha.org.